Welcome to our website!
The Illinois Norsk Rosemalers Association exists to promote and encourage the art of rosemaling: by publishing a newsletter 'Avisen', sponsoring classes and holding meetings for members. We participate in northern Illinois events to promote our organization and offer our rosemaling for sale.
Open Studio over Zoom
This a free Open Studio for INRA members. Have a seat in front of your computer with your own painting project, or join just to visit with your fellow INRA members.
Project description: Work on UFOs or start a new project of your choice.
June 14, Monday evening
General Meeting for Members
6 – 9 pm
Online over Zoom
Link sent via email
Avisen Newsletters for 2021
Password required and provided to members.
Click on the image of the newsletter you wish to view.


INRA chooses a different shape each year to be our OOTY. These are numbered and rosemaled by artists and members and sold at our sales events.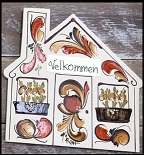 Tentative In-Person Events for 2021
March 2020 began the COVID restrictions, and we were not able to convene general meetings, hold in-person classes or participate in the wonderful festivals of previous years. We will continue to monitor whether events can be held given the pandemic limitations. We hope you are well and stay safe.
May: Syttende Mai Parade in Park Ridge
June: Swedish Days in Geneva, IL
September: Scandinavian Day Festival at Vasa Park, Elgin, IL
October 16 and 17, 2021: Cottages in the Woods, Good Templar Park, Geneva, IL