Welcome to our website!
The Illinois Norsk Rosemalers Association exists to promote and encourage the art of rosemaling: by publishing a newsletter 'Avisen', sponsoring classes and holding meetings for members. We participate in northern Illinois events to promote our organization and offer our rosemaling for sale.
We're out & about at Swedish Days again!
Friday, June 25  &  Saturday 26 (11am – 4pm)
Come visit us at the charming Scandinavian store, The Gift Box in Geneva, IL. We will be there during the modified Swedish Days Celebration. We will have a space in the shop where we will be able to share information about our organization, demonstrate our beautiful Norwegian art form, sell our OOTYs.
Summer Sampler over Zoom
This a free Open Studio for INRA members. Have a seat in front of your computer with your own painting project, or join just to visit with your fellow INRA members.
Monday, July 26, 6:30 – 8:30 PM Central.
• Patti Goke will give a Presentation of rosemaling styles and their characteristics. Must register to attend.
August 2 – 30, weekly, 5 Mondays, 6:30 – 9:30 PM Central.

• All members welcome. • Venue: Zoom
• Project description: Sampler: choose a coaster set or tray or your own project.
• Join other INRA members for painting and conversation.
• Fee: None, it's a member perk! Membership must be current! Join for$15 per year: September 1-August 31.
• Additional Estimated Costs: Coaster set – $40, or Tray – $25, or none, you decide.
Avisen Newsletters for 2021
Password required and provided to members.
Click on the image of the newsletter you wish to view.


INRA chooses a different shape each year to be our OOTY. These are numbered and rosemaled by artists and members and sold at our sales events.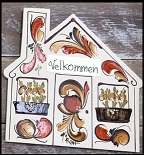 In-Person Events for 2021
May: Syttende Mai Parade in Park Ridge
June 25 & 26: Swedish Days in Geneva, IL at the Gift Box 310 West State St., Geneva IL
September 12, 2021: Scandinavian Day Festival at Vasa Park, Elgin, IL
October 16 and 17, 2021: Cottages in the Woods, Good Templar Park, Geneva, IL